I couldn't take part in the whole Rollfest this year, yet those three last days that I experienced left me with no doubt that our scene is stronger than ever – so much new faces, new crews and fresh blood!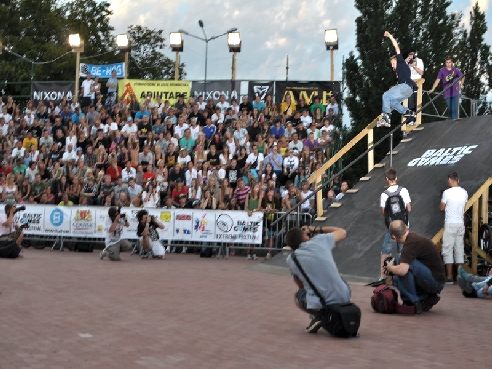 As always the "Relax" camping site was the place of extra ordinary events typical for the any rollerblading gathering – contest in sliding down the camping houses` roofs on chairs, wrapping around whole camp house with self-adhesive foil so the guys inside couldn't get out for hours.. and many other antics that I didn't witness by myself – true Rollfest feel that cannot be matched by anything else. Other than that Rollfest was packed full with everyday attractions like street event, girls event or loud "before" and "after" party. I guess a lot of young generation bladers who attended this madness for the first time were juiced enough to come back next year with even more people!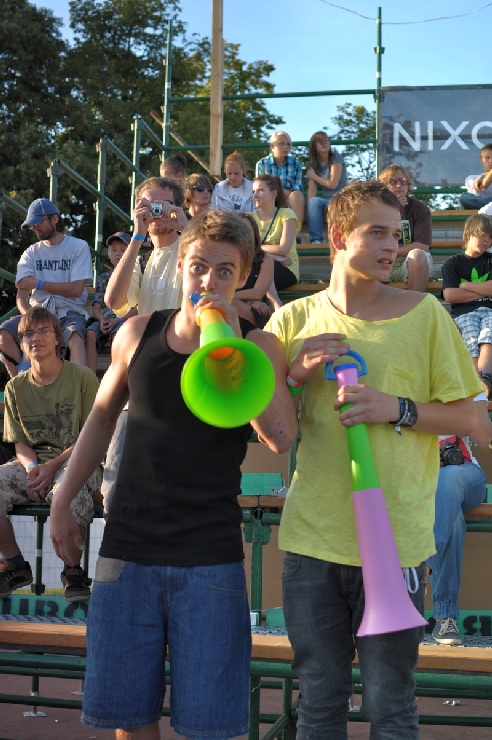 The climax of the Rollfest was highly anticipated Baltic Games 2010 contest. Although I heard some complains that this year's edition had smaller range, and didn't have so much exposure as last year event, I think that it came close to perfect event anyway – the rollerblading part was top notch. About 70 participants! Baltic Games is one of not so many international events in Poland – we have a pleasure to have Julien Cudot, Diego G, Nils Jansons, Igor Jovanowic, Toms Kraskovskis just to name a few. This caused a superb skating level – the stakes were high. Only the best, free from bails runs counted – every fall could decide about a place on the podium – in the end Piotr Combrzyński showed mad skills together with full calmness and got the first place. Nils got second with crazy stunts thrown all over the park and Tomek Piekarski won third place thanks to his creative approach and consistency. According to some participants the skatepark itself didn't give enough possibility for grinding (except super hard-core steep rail) so it can be said that those who had some flips, spins in their sleeves had an advantage, yet I cannot fully agree with that – runs of such people like Łukasz Malewski showed that the park could be destroyed without focusing only on the biggest fun-box.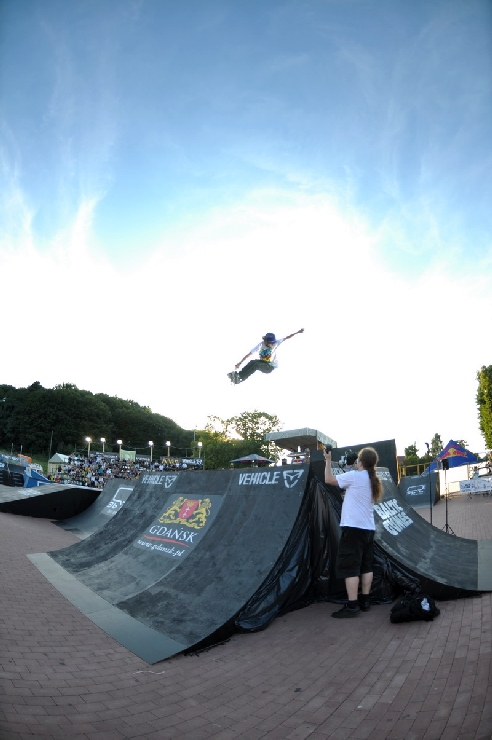 Besides the main event all amateur bladers can compete in various smaller contest organized on the mobile parts around the event area – about 20 people fought in the game of S.K.A.T.E – the first part was won by Jacek Jędryka, the second by Damian Chwiszczuk.
To sum it up Rollfest+Baltic Games were the perfect way to say good bye to summer, check the photos and edits to see what you missed. See ya next year!

You can check opinion of skaters who take part of Baltic Games:

Toms Krasovskis:
"Yeay man, Baltic Games were awesome! Nice park, cool people - everything was A O K. Thanks for the good time. ;)"

Danijs Jescenko:
"Baltic Games were really amazing, much fun and action, can't wait till next comp!!! :)"

Nils Jansons:
"Poland have never disappointed me, always great atmosphere, people and parties. The same was this time. Baltic games skatepark was sick as last year with some huge obstacles, one of the best EU skaters throwing hammers all over the park and the afterparty was just insane. Thank you Poland for the great weekend."

Igor Jovanovic:
"Big thanks to everyone involved in organizing this wonderful extreme festival. Baltic Games is the place to be!!!Sick skating, crazy party's and beautiful girls! Will be back next year for sure."

Diego Guilloud:
"Aiight yes for me too really nice country, nice contest we were really well welcomed. Club and girls are crazy there hehe!! We will be back next year with a bigger team aiight"

Konsta Kortteinen:
"Baltic Games was sick! Good people, good skating and I see my self returning."

Julien Cudot:
"Really enjoyed this event, really good skate park, fucking good skaters especially in street, sick parties and everything , will try to be back over there next year for sure !!!"
Photos by Piotr Głodzik
Edit By Martins Jansons