Winterclash 2011 is behind us. Another important date was added to rollerblading history and I'm sure it will remain in our heads for a long time. As it always happens, it's time for a little summary of a wild weekend in Holland and some thoughts that are popping out in my mind.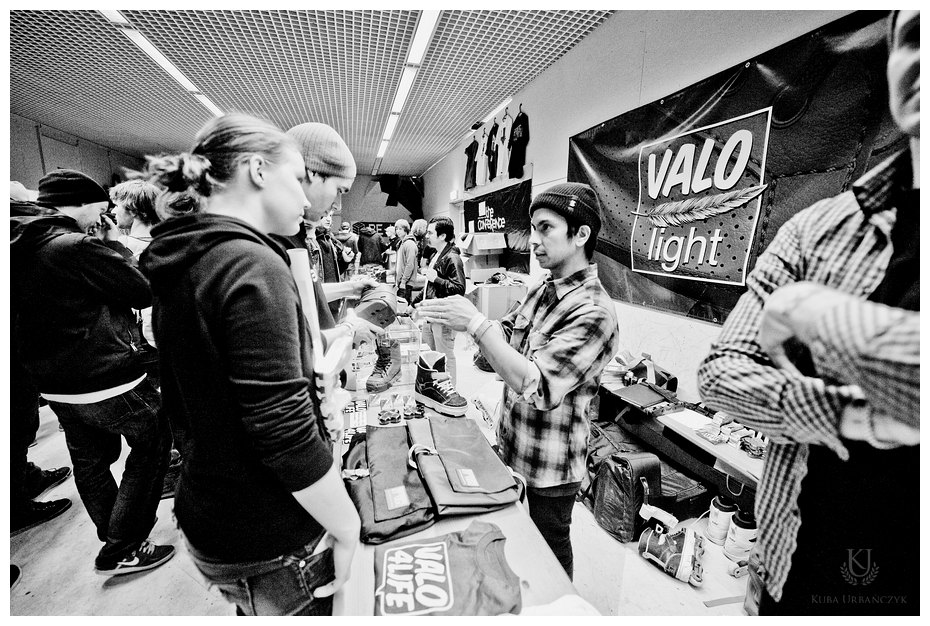 When we take into consideration a cyclical event like Winterclash, and people who are attending it regularly it`s hard not to compare it with the previous events. What's more, according to rule that 'no sequel is as good as the original' most of such opinions are just reminding the 'good old times'.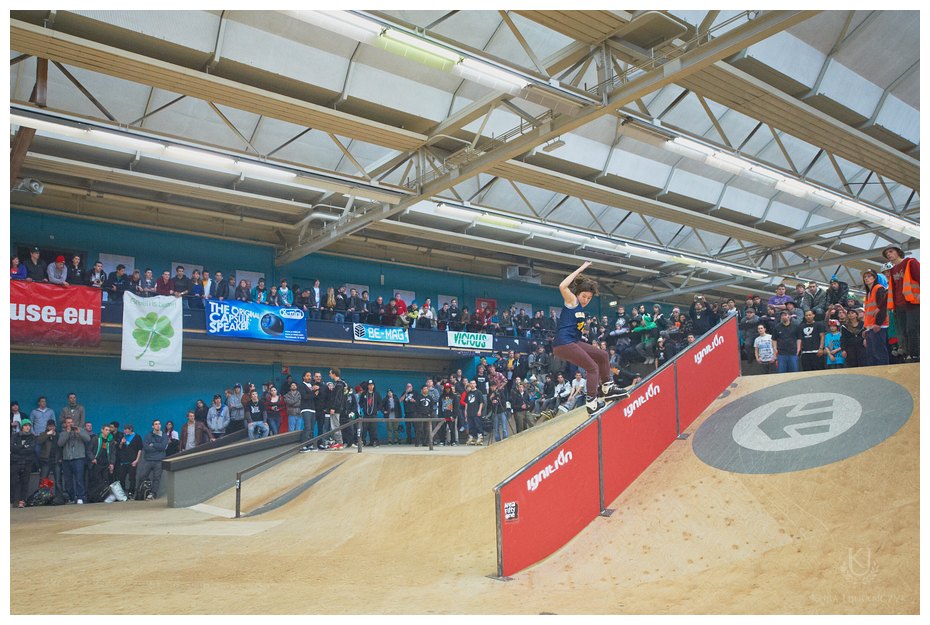 If it isn't enough, I like to complain a lot – everyone who had a chance to meet me will know this. Rollerblading contest is a perfect occasion – you can complain on everything. After few Winterclashes already I had learned one thing – first thoughts just after the event will change dramatically within few weeks after..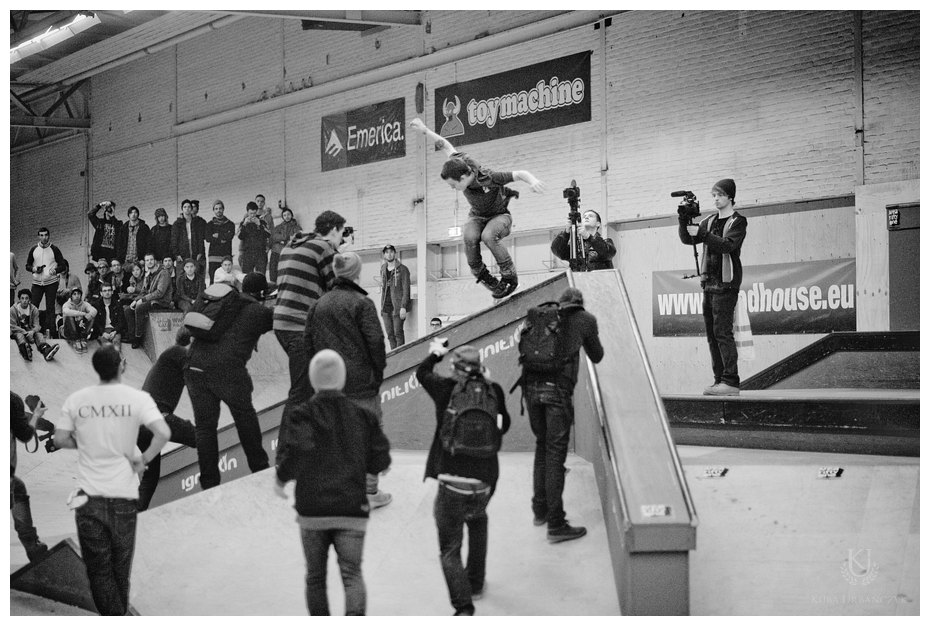 All mentioned above forced me to some thinking and making an important decision about this article. I will not be writing about the tricks – watch the edit and photos, I will not be complaining about the organizers and the way they went with the event – I enjoyed it and will not compare it to the previous WC editions – each of them had something distinctive. What I will try to do instead is to prove everybody who missed it should start regretting it!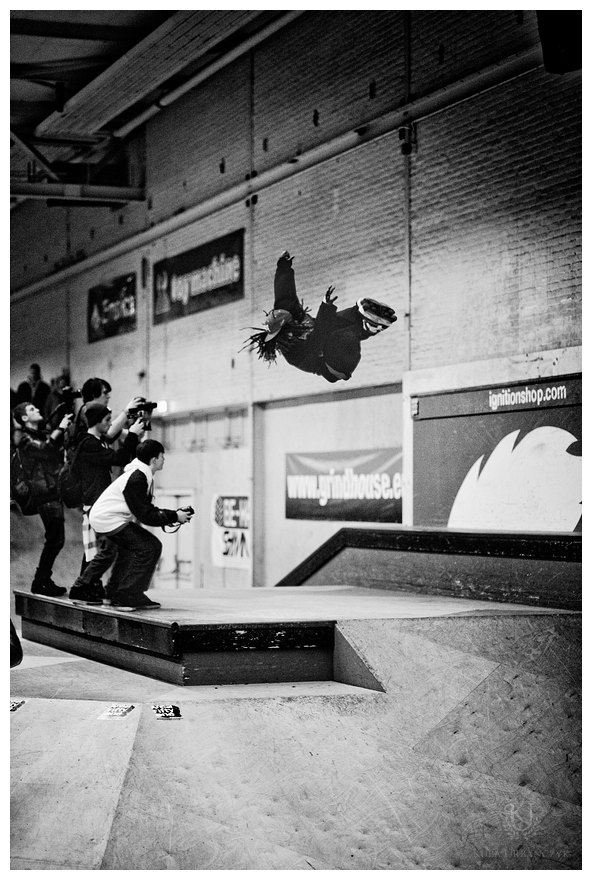 Things which will stay in my head and will be recalled every time I mention WC2011 are:
The event took place in the country where even cold autumn-winter weather do not stop people driving their bikes with huge smile on their faces and you don't have to "confess" for some pleasures
No longer we have to worry that Stephane Alfano will intersperse the event with some 'bad taste' actions – believe me, French people are not only romanticist with heads in the clouds..
If you into hip-hop and you blade, you missed the one and only opportunity of buying the autographed CD of J.Bah – everybody who questioned quality and the style of the recordings were immediately straighten out by a live act in the center of the skatepark – even the barman exchanged drinks for CD of Razors Pro rider!
Nimh is Dead – it's true, yet Shima Skate Manufacturing is doing well. All fans of skater owned company had a chance to have a close look at new Pro skate of Montre Livingstone and see them in action! At one moment even Brian Shima himself wasn't capable of controlling the power of new skates and landed huge 540 on the quarterpipe on his belly..
Rollerblade is STRONG! The amount of people skating the RB skates during the event was impressive. Everybody who already have their Rb`s or didn't know if they are the right skates for them can talk with Tom Hyser, who was present and answered all questions concerning the new products. His positive opinions were confirmed by the RB riders at the skatepark – David Sizemore who systematically destroyed everybody in the Game of SKATE, Rob G giving free lessons of stretching and the local hero – Sven Boekhorst who created the interesting obstacle on the course
As every year, Winterclash brings the top world riders to one place – since the smoking is forbidden inside the Area51 facility, and there was no VIP room etc, everybody who were going out for catching fresh air had a chance to meet plenty of well-known rollerbladers, who were more than willing to talk, give some interviews or just hang out
Trade show was the second place where coming across such people like Richie Eisler, Brian Aragon, Brian Shima, Dominic Sagona wasn't nothing unusual. The tradeshow was more like a friendly meeting of visitors and companies who wanted to show what to expect from them in 2011.
Rollerblading is growing, that's for sure. There were plenty of non-rollerbladng people walking around – groups of hipsters attending the Sneaker-event nearby eagerly came inside the park or a tradeshow. Nice 'addition' to one of the booth was a presence of Vanita Tan :)
Winterclash 2011 was the only contest where the audience participated so actively during the event – I`m sure that some people made more kilometers running from obstacle to obstacle than any competing rider. It's hard to believe how such huge, uncontrolled crowd made the event possible (the skaters could use maybe only 1/3 of whole park). Riders couldn't complain for lack of galvanizing yet due to such turn of events riders couldn't do clean, long lines. However in this particular case the atmosphere of cheering up your favorite skaters was more important than the tricks, I guess...
It seems that the 'financial crisis' that is hot topic right now doesn't concern rollerbladers at all. The amount of people around the park with the high-tech equipment was beyond expectations – the online coverage of the WC2011 will be massive. Personally I`m waiting for the material from the camera of cutie in white boots!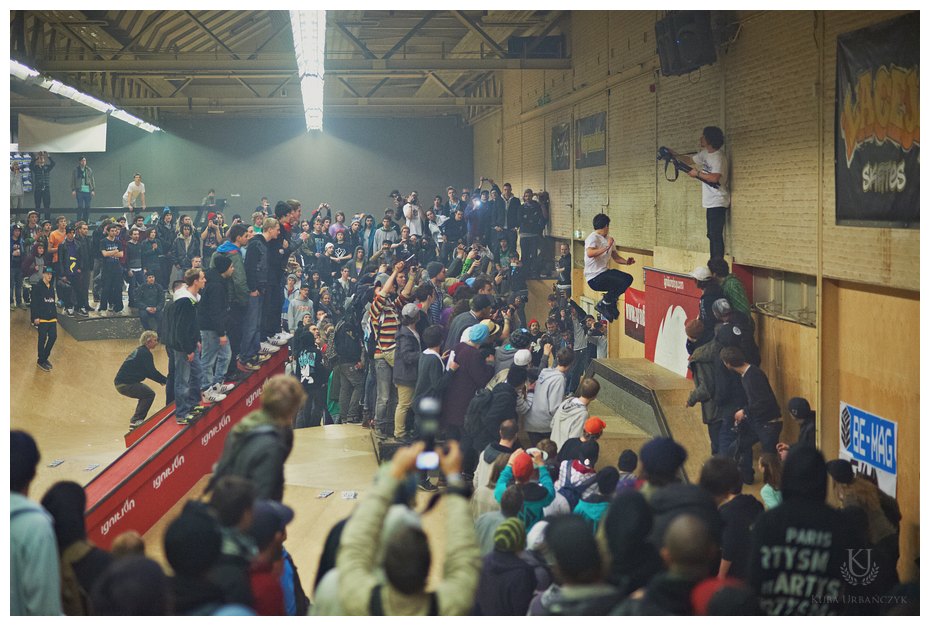 Comparing to the 2010, the Winterclash 2011 was organized purely for us – rollerbladers. The atmosphere, the way of conducting the comp itself and everything which happened that weekend (the good and the bad situations) in Eindhoven was only the result of our behavior and passion. Personally I can't wait for next Winterclash and for the changes that are coming in our industry!
Winterclash 2011 Album with full photo coverage of Kuba Urbańczyk will be available in mid March at Hedonskate.com.
Text: Szyszka
Translation: Basza
Photos: Kuba Urbańczyk
Edit: Przemek Madej