When first pics of Valo AE.1 appeared online, everyone's was talking about it. For sure it was something fresh, which hasn't been seen by our industry – the skate design by 'father' of our sport did great impression from the very beginning. Personally I though they will be some kind of limited edition skates, released in small quantities or someone just painted the white Velcros, yet few months later the skate is available worldwide together with two signature models of Broskow. I assumed that he skate will be top seller, but at the Winterclash or at Never Winter Jam I hardly saw somebody riding them – I guess the white color and high price discouraged the potential customers.

Anyway after few months of skating black Broskows I thought it would be cool to test AE.1 with Sifika liner and GC Formula 1 frame. I was little bit anxious at first: will the power straps are enough to hold your foot correctly ? Will the white color scheme and funky graphics wouldn't change drastically after few sessions? Well as far are Velcro straps – they are solid and hold your foot tight enough, but I used some extra laces underneath which gave me more control over the skate. Colors, graphics – hmm just as I thought they weren't so beautiful after few sessions, although still they easily stand out from all other 'traditional' skates I see everyday. Overall the skates looks much better in person – check the edit to see what I mean.

My main purpose when writing this article was to help people choose the right liner for the Valo skate, since the Valo boot hasn't been changed for ages and I'm sure you all read hundred reviews about them somewhere around – and I know that a lot of people are not satisfied with the Valo stock liners. I have been skating a few pairs of Valos till now and had a chance to try four different liners in them, which are as follows:

-Valo JJ 1
-Sifika SL 415
-Vicious Shima V.1
-Sifika - Oakland Neoprene - Dominic Sagona

Let's start with the Valo JJ 1 stock liner. To be honest I wasn't able the skate in it for more than two weeks – it's super thin, stiff and uncomfortable (I've heard that AB.1 and AE.1 liners are much improved but I didn't risk trying them and from that start got something else).

On the other hand Sifika SL 415 liner fitted me from the very beginning. Thanks to the elastic lacing system, there is no way of any heel lift. The liner gives you great flex, it's more like a sock I think – slight more stiffness and it would be perfect. It's biggest advantage is its durability – I used it for a year, now my friend is skating it and besides some minor rips of the lacing system the liner doesn't have any tears inside. I'm aware it could be hard to get your hands on the pair right now but I'm sure it's successor SL 515 is almost the same.

With my second Valos I decided to check Vicious liner – it turned out to have less advantages compared to Sifika. First, what I missed most was the lack of lacing system, the lining itself is comfortable though. The biggest con was the durability – after three months I ripped the liner in the ankle area and it was it over.. Visually it matches Valo skate quite well and the flex was appropriate.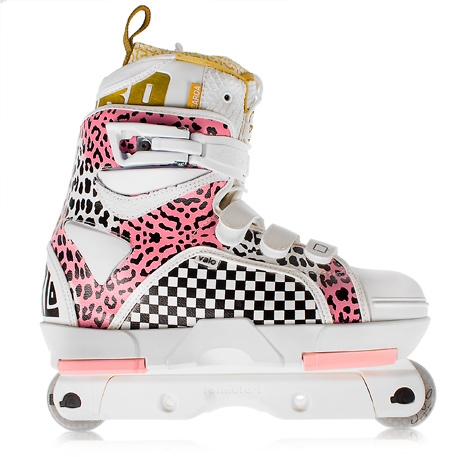 Let's focus now on the newest Sifika invention – the second signature liner of Dominic Sagona – Sifika Oakland Neoprene which I'm using right now with my Valos AE.1. As far as I know it's the first liner from Sifika with neoprene sock which is awesome idea. The 'sock' has a power strap and it goes only up the ankle which makes taking skate on and off very easy (it's not pain in the ass like in Jugs). The liner has a perfect shape and after few session it adjusted to my foot exactly how I wanted. Again the lacing system is great feature, just like the material used inside – durable as the previously mentioned SL 415. The outside of the liner is covered with snake-skin pattern material which lets the air flowing in and out. The only thing which can be better is footbed, but still in overall I think that is one of the best liner choice for Valo skates!

Mateusz Radziszewski