Inmag: So, Dominic what are you up to lately ? Are you studying, working or focusing just on your skating career?
At the moment I'm studying photography in Berlin, that was the reason why I moved there last year in September. I've just finished my first year there and right now I'm on vacation and traveling a little bit but the vacation will be over next week so I have to get back to school.
Inmag: Are you working on some particular project right now? Like a movie section, interview or anything rolling-wise?

Yeah we are planning to do an interview for Rise magazine, other than that I'm just shooting with a photographer from Berlin and I also have a top secret project, it's not 100 % sure right now so I can't talk about it but you will know when it comes out - it's a video section, a part of bigger project.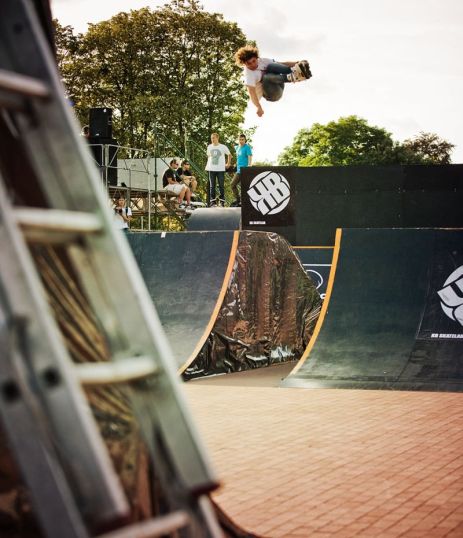 Inmag: Tell me only if it's some Euro thing or someone from abroad is doing it and you are a part of it?
It's not my idea, I will be just a part of it.
Inmag: You've become Remz pro, it's the first time when someone from Europe got real pro status - does it change anything to you?
I don't know. the problem was because of my school I haven't much opportunities for traveling - well I could have gone for tours and stuff but I had to go to school too, I couldn't travel for free etc I guess now I get a little bit money which is cool, I mean really really cool and also ...I dunno sometimes people look at me different it can be felt sometimes but for me it's the same, yeah it motivated me more I`m the same guy I was ...
Inmag: You are already second time in Poland this year right? This time it's another big park event but it's connected with Rollfest, how do you like the idea of people gathering in one resort for a week while partying and skating ?
I think it's really great idea I couldn't enjoy whole Rollfest because I arrived on Thursday, one thing that is really good that people are so cool together here - great parties and stuff.


Inmag: What is your approach to skating, what makes you juiced, what do you enjoy in skating most?
For me it's all about the flow, like you should feel it and have a good flow, everything should work together.

Inmag: Like you don't think what to do next just do it?
Yeah, it's like you feel that at the moment you can do everything , strange it's really hard to explain, just flow that's it – total freedom.
Inmag: How can you compare the level right now - Europe vs. US. In US it seemed always higher, with more showcase and stuff, now it's kinda shifted. Do you think Europeans are finally getting close to Americans?
I think, like.. ehh.. people in US are so much better - let's take skateparks - they are crazy, they are used to skate big stuff. In Europe there aren't such places. I think Europeans has their way of skating , they have to handle bad stuff, bad landings etc, they just fuck that, they are more hard core, I like Euro skating so much more.
Inmag: Any shutouts?
I want to to give big shutout to Poland, thank you!
Interview: Basza
Photos: Felix Strosetzki