At the beginning I would like to state that Never Winter Jam is the first event, where Inmag.info together with other magazines are the official media supporters which means a lot more than just putting the logos on the event posters and flyers.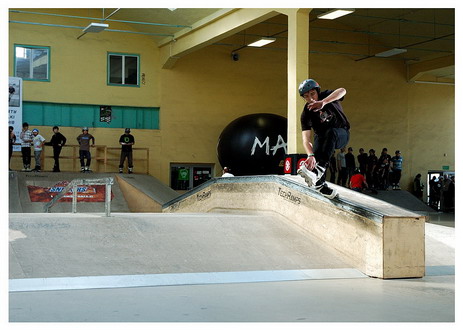 Radek Kojtych - Cross Grab Fishbrain Never Winter Jam is the very first event of this kinds in Poland, organised with such hype and huge media coverage. Hard work of the organisers and months of preparations resulted in getting interests of countless sponsors as well as media not directly connected with rollerblading.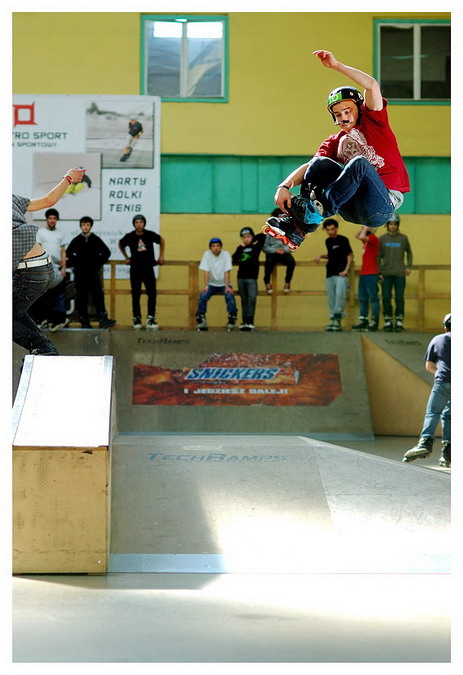 Przemek Madej - 540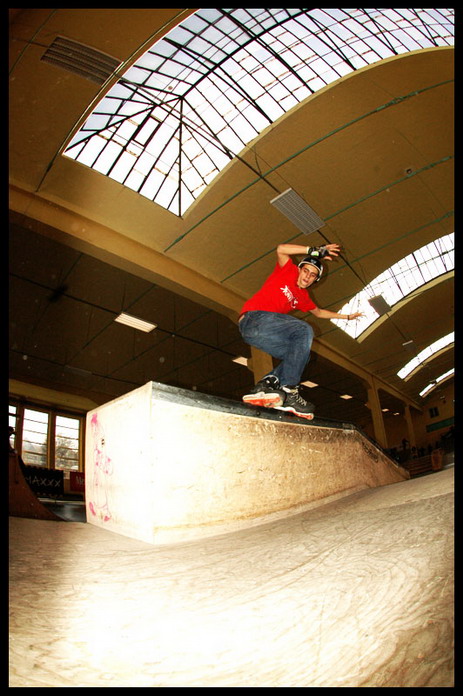 Szczurek - Ts Savanah The full list of media supporters can be found at www.neverwinterjam.com. The whole event was organised with the co-operation with Wrocław`s city council, Men`s Health magazine, RMFMAXXX radio and Wrocław Youth Sport Centre – without any doubt such support is great success.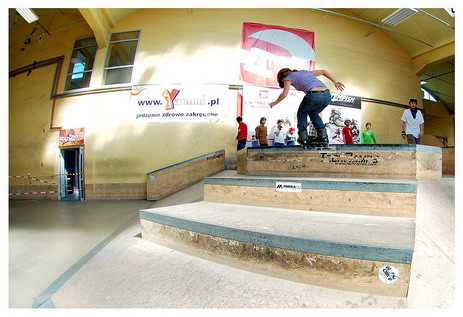 Liene Nulle - Ao Soul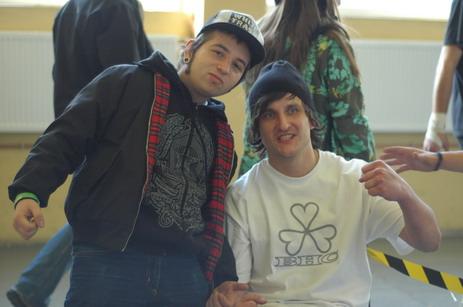 0-34 Crew - Wons & K-Jack Being the official patron of the Never Winter Jam, Inmag.info got the exclusive rights to publish photos (which can be found further) and the official edit. To not make it any longer I will try to write about what really happened during 15th of march 2008, at the Never Winter Jam.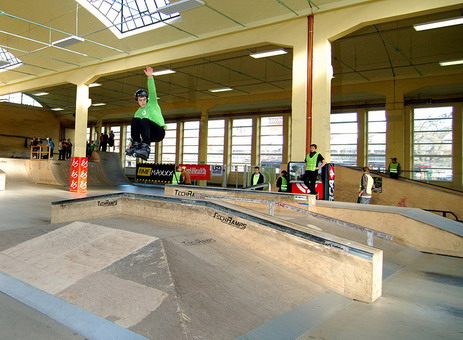 Bartek Górczyk - 360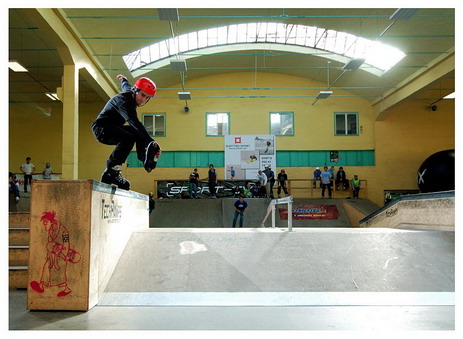 Piotrek Combrzyński - Corss Grab Bs Torque A week before the event, it was clear that the number of the participants will be greater than 100, all of this was possible thanks to the online registration option available at www.neverwinterjam.com/registration/. Among the best polish rollerbladers there were also guests from abroad like: Honza Puchyr, Martin Darnadi, Nils Jansons, Nick Lomax, Chaz Sands, Jojo Jacobi and the one and only girl competing in Pro division – Martina Svobodova.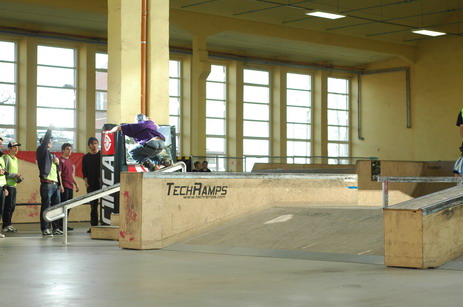 Martin Darnadi - Bs Royal Up The Rail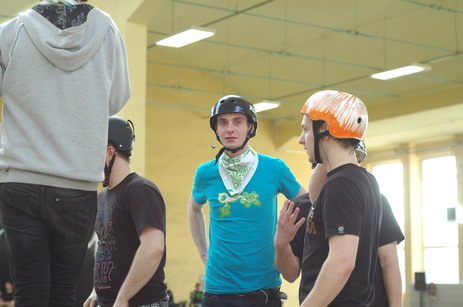 Święty & Adam Żurawiecki The day before the comp showed what to expect from the main event. Huge airs of Chaz Sands (corkscrew 720, corkscrew 900) and Piotrek Combrzyński (rodeo, fakie 720, fakie 900) on the funbox or impossible to match Nick`s Lomax switch ups on the rail, total destruction of miniramp by islanders, Pazdej and Szymon Grudziński and stylish show of how to use every obstacle in the park by OGR crew and Nils Jansons. I won`t list all the tricks which went down that day because almost all of them were done again during the main event so I will focus on them later. It is worth to mention that in the eveneing there wa a roller`s supper at Yamii Wraps where all rollerbalders had a 20% discount on every item in the menu.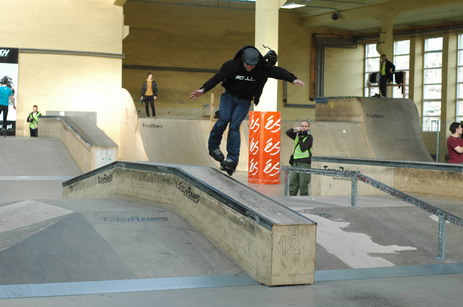 Labeda - Disaster Soul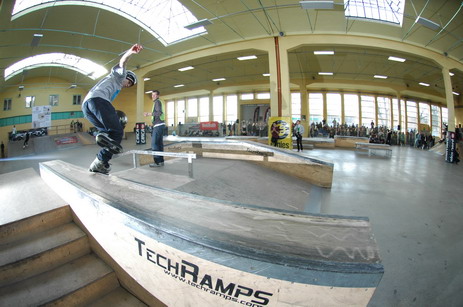 Ciapek - Stale Bs Torque Friday night was chill for most of us. Small parties at the hotels and hostels, but not everybody wanted to stay there. Three foreign skaters Chaz Sands, Nick Lomax and Stefan Horngacher went out to check the Wrocław`s night life but unfortunately they came across some bad company... The detalis are not known but Nick got a black eye and had his hand crushed, while everyone who stood in the Chaz`s way was seriously injured. In the end it turned all good because guys at the police station acknowledged that Chaz, Nick and Horn were attacked so they acted in the self defense.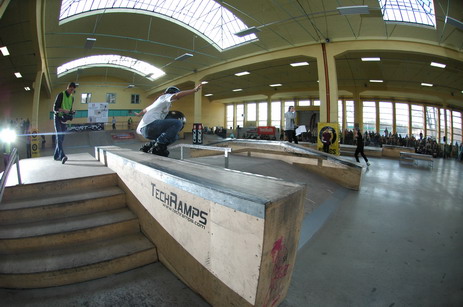 Martina Svobodova - Bs Nugen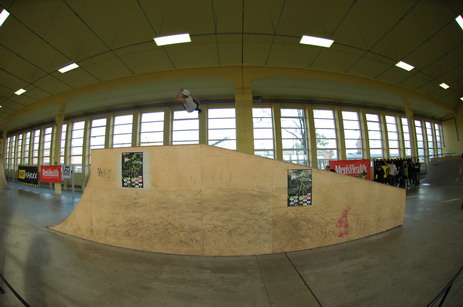 Chaz Sands - Corckscrew 720 Saturday, the big day. For me it started pretty interesting because I was asked to comment the whole event, which I hadn`t planned earlier. As an announcer I thought it woul be a cool idea to write this story from different point of view.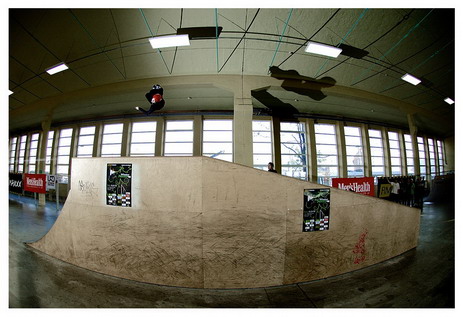 Piotrek Combrzyński - Fakie Rodeo 720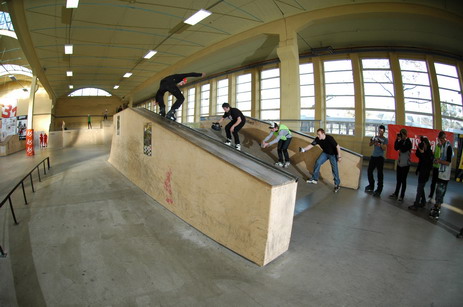 Piotrek Combrzyński - Disaster 540 TS Mistrail So it began – registrations, warm-ups, and some organisation problems which delayed the start of the first runs. It was due to really big amount of the participants and the fatc that our foreign guests were a little late, but it wasn`t really a big deal.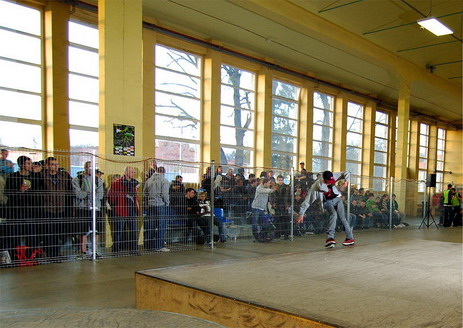 Jojo Jacobi - Ao Soul

Skatepark Being a skatepark - event Never Winter Jam required to wear a helmet during the comp. I would like to thank all of the participants who didn`t make any problems with that rule and wore helmets all the time – you saved a lot of announcers` and orgaisers` time and nerves.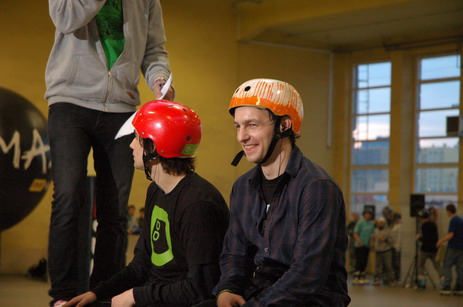 Piotrek Combrzyński & Adam Żurawiecki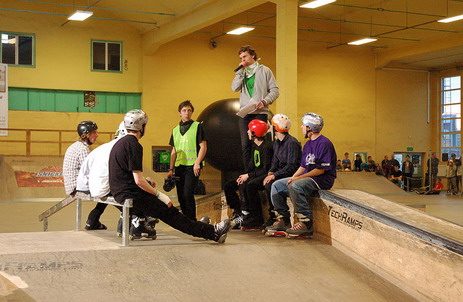 5-minute qualification runs of the amateurs officialy started Never Winter Jam. Due to many participants (13 groups of amateurs, each with 6-7 people) Am comp was limited to qualifications, semis and finals. Here, like always when writing a event-story I`m thinking what to write and what not, just to make things clear… Well to be honest I don`t remember exactly what happened during all AM runs but most of the tricks which were done during the semis were also pulled during the finals and you can just easily watch the edit to check them out – my excuse is that it is hard to see everything when you have to comment the event all the time, having in mind that that usually there were 7 people skating simultaneously. So to makes short, here is what I remember the best from the AM runs.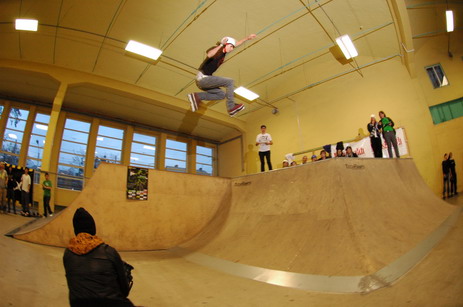 Jojo Jacobi - Transfer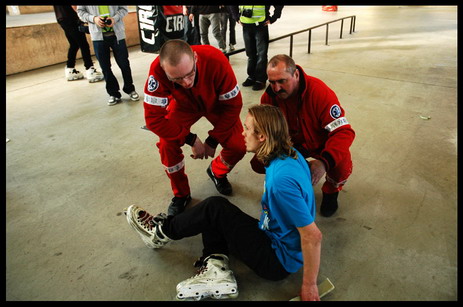 Fisha There were three skaters that obviously stood out from the crowd, and without surprise the placed on the podium: Tomek Przybylik from Rybnik, Przemek Górczyk (Szczurek) from Wrocław, Martin Selecky from Slovakia. Martin was the only among the Ams who landed perfectly 360 outspin soul and 450 Royale on the biggest grindbox. Kuba Wojciechowski (Suchar) from Lublin also tried these but didn`t laced it. Martin mixed his spins, 540`s, grinds on the rail and small box which gave him third place in the end. Przemek Górczyk from Wrocław, the winner of last year`s Rollfest AM category, showed everybody how to use all of the park with long lines, his winter sessions at that park earlier definitely paid off. Consistency and good flow gave him 2nd place. The biggest surprise of this division was surely Tomek Przybylik from Rybnik. I had a chance to watch Tomek during the winterclash 2008, but it was NWJ when he shined. Disaster Soul on the biggest grindbox, Bs unity and bs farv on the edge of the roll-in with landing in the miniramp, disaster fakie bs unity on the small box and perfect 450 bs unity from bank to flat grindbox were his highlights, which of course were enough to get him the first place. Other Ams worth to mention: Elektryk from Poznań – disaster True mizu and disaster Top Acid on the biggest grindbox, Bartek Górczyk and his up-flat-down grindbox tricks ( True mizu, true Savana), Kielan from Warsaw – disaster full truespin savanah on the small box. Sorry if I missed anyone but it was rather hard to remember all of that.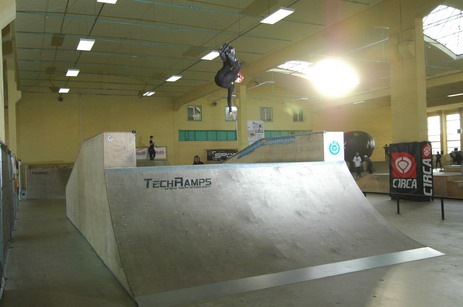 Piotrek Combrzyński - Rodeo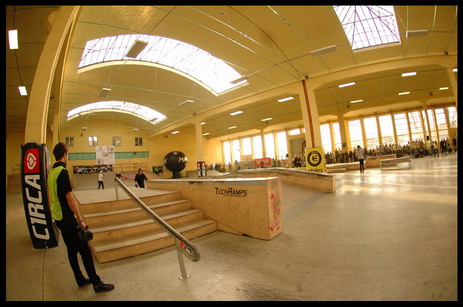 Skatepark It`s time for the Pro Comp. At first it was planned just like the Ams (three rounds) but due to only 6 groups in the elimination rounds and crazy tricks being laced since the very first seconds, the judges decided to make a Final round with only seven riders. In my opinion it was a wise choice. Again I will write only about the highlights – most of the can be seen in the edit.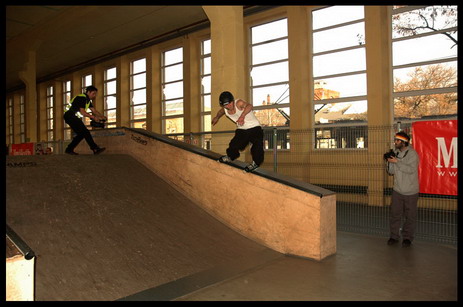 Chaz Sands - Bs Nugen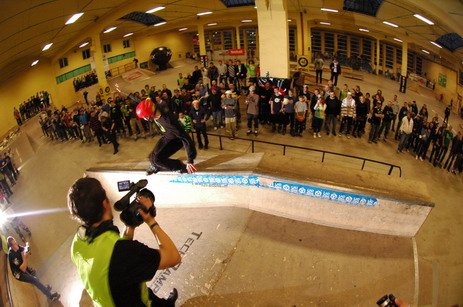 Piotrek Combrzyński - Disaster Hurricane Topsoul The first line-up for the finals consisted of 6 skaters, but judges weren`t so sure so it ended up with the final 7. They were: Adam Żurawiecki – 900 spin on the biggest funbox and disaster 540 kindgrind switch and natural on the small grindbox, Ciapek – whole bunch of disaster full truespin tricks on the small box, Martin Darnadi from Slovakia, Jojo Jacobi who qualified thanks to his creative tricks like stall soul, fishbrain on the extension pipes above the mini ramp, fakie 720 transfer above the fence or massive 360 transfer from spine. He placed third, tied with Chaz Sands who murdered the biggest funbox with super high corkscrew 720 and 900 or grinds like disaster hurricane topsouls and true mizus. Second place went to Piotr Combrzyński – fakie 1080, fakie corkscrew 720, disaster 540 true cloudy, disaster 540 true mistrail, disaster 540 tts, disaster 450 bs nifty on the biggest grindbox, or lines like Bs royale on the roll-in ledge with landing on the miniramp followed by a quick wall stall and rodeo. Awesome wallride transfer from spine and incredible best trick - disaster double hardspin topsoul! The first place came to Nick Lomax, who wasn`t disturbed by his black eye and injured hand and threw such stuff like top soul to 360 top soul on the biggest grindbox, massive 360 and 540 transfers from spine to mini ramp, disatser 540 true top acid disaster 540 Tts on the small grindbox and endless rail switch ups which were sooo hard to match.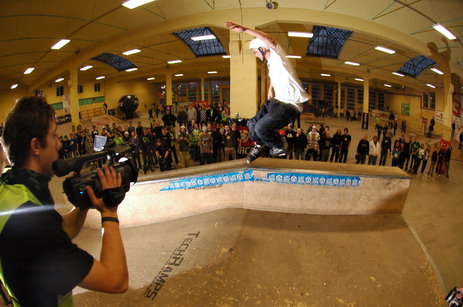 Chaz Sands - Disaster Hurricane Topsoul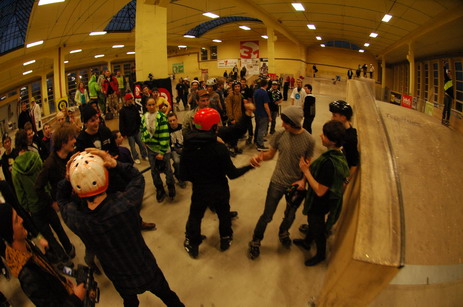 Piotrek Combrzyński It`s rather short summary of what happened during the Never Winetr Jam, which are considered as the best comp-event so far in Poland.

Skatepark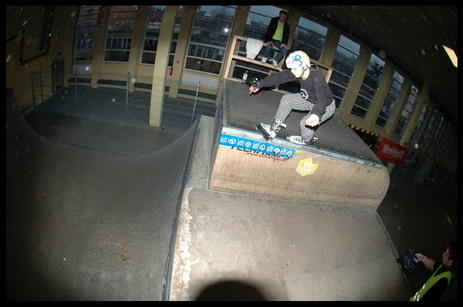 Elektryk - Top Acid To wrap things up I would like to congratulate all winners as well as organisers for their hard work, lots of preparations and everybody who was part of this crazy weekend. Thanks to everybody who listened to the instructions of the guards and security, it helped a lot! I would write a few more lines about what I liked etc but I wanted this story t be as objective as possible so I asked Jojo Jacobi (the guy behind the biggest worldwide-event of this kind) about his NWJ feelings. As a bonus here you have a few things which I didn`t like and at the end you can read various riders and spectactors opinions too.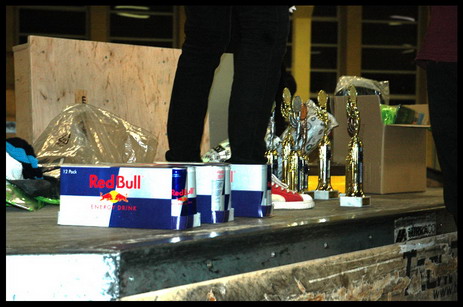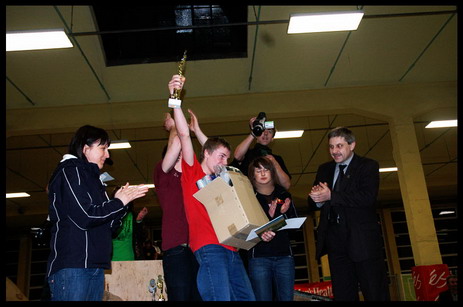 Tomek Przybylik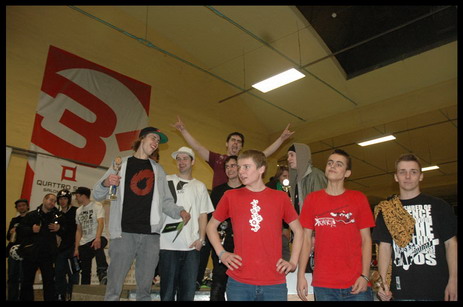 Winners What I didn`t like: Huge pile of empty Redbull cans and thrash all over the park which of course had to be cleaned by the organisers. The speaker system which made a commenting job very hard, though it wasn`t nobody fault – the park is just to big to be clearly heard in every place. Interview with Jojo Jacobo – organiser of Winterclash: SZ: In the most cases, when inmag.info is the offical media supporter of an event, I do my best to create the detailed story, which not only focus on the skating/event process but shows the other aspects of the event. As one of the guest who came to Poland and competed, You seem to be a good person to talk it through. I would like to ask You a few questions as You are the organiser of the biggest rollerblading event in the world – Winterclash. So let`s start, first of all how did you like Wrocław? JOJO: Hm… That's always a hard question, due the fact that on tour I usually just see the skatepark and some street spots. But this time it was a bit better. We went out two nights in a row and I could see the center of Wrocław by night. It looks really nice and got some beautiful parts. Too bad I couldn't see more. But I already arranged a tourist city tour for my next visit.
SZ: We talk a little bit in the car and at the afterparty. You said that the decision of coming to Never Winter Jam wasn`t an easy one, why? JOJO: 4 years ago I visited a street comp in Poznan, but since than I never came back. I dont know. The first fact is that there are way too many events every year. But second is that i never knew if germans are welcome in Poland. I dont know. I somehow thought that Polish skaters are doing their own thing and that they dont like Germans... But yeah... Now i know how inexcusable dumb i was. There was NO SINGLE moment when i didnt feel comfortable or welcome (ok, maybe while we had a fight in the first night...). Everybody was nice and happy and I had a great time. So, SORRY everyone that i was a bit worried in the beginning. SZ: Never Winter Jam is definetely the biggest skatepark event in Poland since Lurys Cups in Łódź, 1997-1998. As a man responsible for such big project as Winterclash, another visited comp is just a new experience. During the Never Winter Jam, did you totally forget about the part of being an organiser and just had fun or did you watch how the event was carried etc.? JOJO: My main project was to have as much fun as possible. But for sure its not possible to totally forget about my role as organizer. I always try to find new inspiration at other events. And the "Never Winterjam" was definitely a great inspiration for my future events! And I came to Poland to talk to Pawel, Mirek and the others to make something happen in the future. So yeah, I fear i´m always a bit of a "organizer".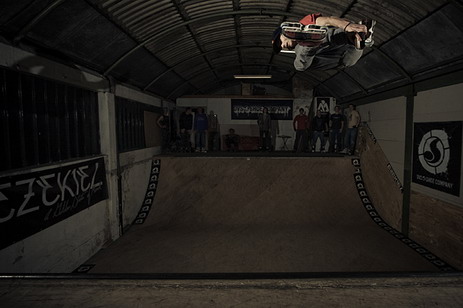 SZ: Even as one of the competitors, what brought your attention the most? In a positive and negative way? JOJO: In a positive way it was the atmosphere. Everybody was happy to be able to have a good session and even the crowd behind the fence had a good time. At the afterparty i talked to a lot of people and seeing their happy faces always makes me happy as well. Its all about having a good time together! In a negitive way ni dont even know. Maybe that i didnt eat but got more than 8 Red Bulls. I felt so bad in the evening and it took me around 3 hours to get enough energy for the afterparty. But hey, thats my own fault. SZ: While making an interview I try not to fall into schemes but I just couldn`t skip this questions: Was it something which you as an organiser of the Winterclash envied of Never Winter Jam organisers? What should they avoid next time and what was missing? JOJO: Envied... hm. Probably the fact that a lot of people are working together perfectly. For the winterclash I dont have a media agent for example. In germany most of the people are just talking, but not working. So i need to find reliable people from other countries as well. In poland it seems that everybody is motivated and thankful to make something happen. Thats definitely missing in germany! And what was missing for the "Never Winter Jam"? I think the international promotion. Everybody was taking care of national media and everything, but rollerbladers from other countries couldnt find anything about the competition until 2 weeks before the event. But thats the only thing which was missing i think. SZ: Last year, when I was writing a Winterclash 07 story and this year with Clash`08 review I came across with many negative opinions about judging during the Clash or the form of the finals were conducted. As one of the participants what would you say about those two aspects during Never Winter Jam? JOJO: First i want to say something about the winterclash system. You shouldnt forget that it is the probably biggest problem for an organiser, to make around 300 starters fit in just one afternoon of competition. Qualifiers, semi finals, finales, amateur, girl and pro. Gratulations if youre able to manage that :). If you see that, you know that there are not a lot of oppertunities about the judging / competition system. Session format (a lot of people skating together in the smallest amount of time possible) seems to be the only way to do it. The head to head battle (finales) is another thing. I heard that some people dont like the format, but i think this is where it comes to main point. Why is the atmosphere of the winterclash so special? The head to head battle is one of the resons. If youre standing in the middle of the street course together with all your friends plus 1000 other rollerbladers and everybody is screaming and watching some of the best skaters doing sick tricks, you will probably never forget it. And if we ignore the atmosphere side of the event, you still cant ignore the amount of people again. And here is the connection to the "Never Winter Jam". At the "Never Winterjam" we had less spectators, less skaters and therewith less time pressure. BUT STILL the finale turned out to be at one spot in the end. And why? Because skaters want to be as close as possible to the action. If they see a good trick going on, they are running to this obstacle. At the end everybody was standing next to the funbox and screaming. And this was great. Because the atmosphere was great! But skating lines or something isnt possible anymore, as soon as the crowd is standing next to a spot like they did in poland or like they did at the winterclash. So you have a couple of oppertunities: Dont let people enter the skatepark (this means fucked up atmosphere like at LG Games...) Build the biggest skatepark ever with more space for people. Than they can stand everywhere but there will still be enough space for lines (loosing atmosphere again because everything is so far way) Do it like the people / spectators want it to be and have the best atmosphere and tons of happy skaters. (negative: Jeff Stockwell will not win the competition and lines arent possible. Thats bad, but if somebody has a great idea how to solve the problem, hit me back at [email protected]) Do you see what i mean? As soon as so many people like at the winterclash, are coming together for a competition, it will not be possible to make everybody happy, because more people mean less space, and less space means less oppertunities! The "Never Winterjam" finale was the best exapmle. As soon as poeple start standing at a spot, nothing else than this spot does matter anymore. Ok... Sorry for writing a book, but i think this is an interesting point! To get back to the toppic. Theres one point i didnt like about the format at the "Never Winterjam". If you put people into session format, they shouldnt skate all at the same time. They are getting in their way each other and the judged cant see everything at the same time. The better way (in my opinion) is to make them skate after each other. First skater is doing a trick or a line, next skater is doing a trick or a line... and so on and from the beginning again. This would be better for lines and for the judging. SZ: To not make it too boring to read, let`s get straight to different things. What can you say about the level of participants and who did you liked the most? JOJO: The level was high as always in poland. But Piotrek is by far the best polish skater EVER! His is the future. Yeah and chaz and Lomax.. I dont need to say anything i guess.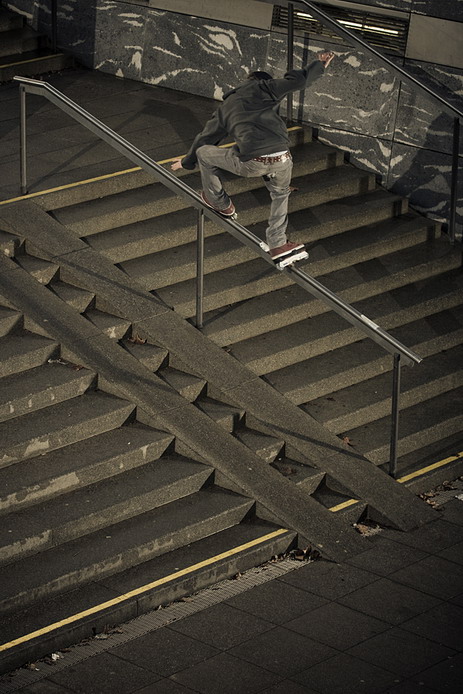 SZ: Everybody knows that you can use the park with very different approach than most rollerbladers. How did you like the Wrocław`s facility and which element did you liked the most? JOJO: The park is big and you can have a lot of fun there. But for me its always hard skate good at competitions as soon as there are a lot of banks and curbs. So I had to find out about other ways to skate the park. In the qualifiers it didn't worked that well but in the finales I found some good stuff I think. There's no element standing out the most, but I really like to do high stalls somewhere. So the tube on top of the miniramp was fun. SZ: Every comp has its own atmosphere made by people - competitors and the crowd. How did you like the polish vibe and people you met? JOJO: Like I said in the second question, I was really impressed by the atmosphere. Everybody was really really nice and it was good to meet everybody. Some people I knew already and it was good to see them again, and the new faces will also stick in my mind. I had a great time and I will come back. That's for sure! I guess this speaks for the atmosphere SZ: To wrap this up, tell us something about the afterparty in Bezsenność club. JOJO: It was great that the organisers could manage to get a spacial area for rollerbladers in such a big and crowded club. It was good to see that not every rollerblading party atomaticly needs to be a "man only" thing. The club was opened for everybody and thats the reason why everybody had so much fun. And about myself and the party? I got something to tell you! When EVERYBODY OF YOU already left the club, i was still there. Thats no joke. The small skinny german guy, was the last one at your afterparty. The lights where already on and even the bargirls where picked up by their boyfriends. So whats up with polish party peole eh???? SZ: Thanks for your time and I hope that you will come here next year to take part in Never Winter Jam again! JOJO: Thank YOU for this opportunity! I will do my best to come over for the rollfest as well and I will stay in touch with you guys. Because it seems that were making something happen together!!! See you soon and take care Others opinions about Never Winter Jam: Chaz Sands (Razors, Kizer, Night Hardware, Shifty – Scotland):
This was my second visit to Poland and it was even better then the first time even though i was mad injured i had good fun skating the event and generally hanging out with some of the local skaters. I think the event was really good and that the park was nice. so i am saying to anyone that has the chance to get out to Poland and attend this event they should do so for a good time. Martina Svobodova (Hedonskate, Deshi, Stygma - Slovakia):
It was the first time in poland for me.the weather sucked ass, it was raining all day, we couldnt find the hotel that we were staying at and it took us 8.5 hours to get there from slovakia, bratislava.but the day of the competition everything went well.the comp was fun, everyone was skating awsome, the whole organization of the competition was great, and people was nice.Plus i had lotta fun with polish people at the afterparty so in the end everything turned out great and now i cant wait to go to Poland again. Almants Nedzveckis (Infinity Clothing – Latvia):
That was awesome competition and trip for me. Realy enjoy wroclaw and all people who was there, Don`t remember afterparty but seems it was realy crazy :D Can`t wait till next time! Martins Jansons (Latvia):
Actualy it was better than i tought before i came , everthing was greate, like it should be i mean, cool people, nice park, nice city, greate afterparty, good skating(f**king crazy skating), i will definitely tell my friends about the comp and i will come next year for sure! This comp has big future if gona be regulary every year, peace! Nils Jansons (Hedonskate, Remz, Match – Latvia):
Contest was sick, afterpary was great and piotrek was robocop! Liene Nulle (Latvia):
Well about Newer Winter Jam i can say only good things. That was a great event where some European guys came together and enjoyed the comp and after that had fun in pretty nice polish club. I think this event again proved that polish skating industry is pretty big and well organized. And of course polish guys are very kind and thanks for everything while staying in Wroclaw! Przemek Madej (Hedonskate, Stygma, USD - Poland):
Well organised, great level, awesome vibe. Tons of friends and amazing afterparty – first time in Poland! Congrats Petmen! Piotrek Combrzyński (Hedonskate, Razors, 4x4 - Poland):
The biggest comp with the best atmosphere I have participated so far in Poland. I want more of these! Grażyna Wratny (Poland):
For me NeverWinterJam was a great opportunity to just have fun and party because of my injured ankle. Greets to Trójmiasto. Josh (JFC - Poland):
At first I thought it will be another park-comp in Poland. But when I witnessed it I was sure it will be something to remember, 100% well organised, tricks out of this world and cool atmosphere. I think it was one the best event in Europe and hope it will get bigger in future! Kielan (Inspin.pl owner - Poland):
NeverWinterJam was the best event I have taken part so far. Tricks – massive, afterparty – hell yeah! Suchar (Poland):
In Wrocław, the vibe got me mad jucied to skate. The comp was off the hook. Level really high, I`m glad sth like that happened in Poland. I wish more guests from abroad next time! Arci (Poland):
The number of people, atmosphere, hot tricks and so-so organisation were the key to success of this and I hope all next NWJ editions. The best park event so far in Poland! Finally we have got something like this in our country! Larry (Poland):
Everybody was turned on by the awesome vibe, chill like spring day in the garden, mostly thanks to Grażyna. Kosti (JFC - Poland):
In my opinion it was one of the most prestigous events in Poland, besides Rollfest of course – I`m wondering what will happen next year. Neo (JFC - Poland):
I think that NWJ in Wrocław were the most well-organised comp in Poland. Mateusz Kowalski (Hedonskate, Valo, Ucon, Chimera- Poland):
Very professionaly organised, great vibe and killer finals! Kojot (Hedonskate, Remz, Smith's - Poland):
Surely the biggest inline event in Poland – well organised, well conducted, incredible skating level. If we keep oragising things like that here, there is a chance that Poland will be noticed as an event-organiser and can included in the group of countries which hold international events in the future. Pierzchal (Poland):
The atmosphere just like in the Hoedown movies – the best event I was part of! Pazdej (Poland):
Hello! NeverWinterJam – one of teh bigger if not the biggest comp-park in Poland to date. Most of us met each other at the friday night to check the park, skate without huge crowd and to have some before party in the nice city of Wrocław. Unfortuately for some our foreign guest that night wasn`t so lucky as they have a fight with local hooligans who I think wished not to start the riot because it turned out they were not match for Chaz, Nick and Stefan. Saturday, almost all woke up early to be at the park on time, I don`t want to exaggerate but the amount of cometitors was huge and only thanks to good organisation, everything turned out to be good. Foreigners as well as polish guys showed their endless trick vocabulary – just like in viedogame – 720 hurrican topsoul by Piotrek just to name one. The whole weekend was a blast! I give 5 out of 5! Text: Szymon aka Szyszka
Photo: Kuba Urbańczyk & Misiek z Wrocławia
Edit: Kojot